Modular and Mobile ( Manufactured ) Homes - Vermont and New Hampshire's Housing Source
Providing full service Modular, Manufactured, and Mobile homes at factory direct value.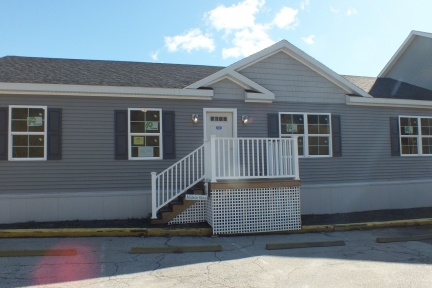 Stock Model #290
Modular Homes
26' x 56'
Featuring svelted sage painted cabinetry throughout, antique pewter dining room light, mullion glass kitcehn cabinets…
The Latest from Fecteau Homes
OPEN HOUSE - 92 Verd Mont Rd, Waitsfield
November 28, 2017
Join us Saturday, December 9th from 11AM to 1PM for an OPEN HOUSE at 92 Verd Mont Rd in Waitsfield.  This…
Over $11,000 in Discounts!
November 16, 2017
Stock model #280 26'8" x 76' (72' without hitch) Double-wide 1,920 Sq. Ft. +/- 3 Bedrooms & 2 Bathrooms This…
What Our Customers Say
"Thank you, again, for helping us get into a beautiful new home. It's everything we've wanted ... We've had many compliments on our new home. We always tell people where we got it, and how helpful and friendly everyone has been..."
Sandy
"Just want to send a little note with a big thank you. You were all such a joy to do business with. Can't tell you how happy I [am] with my new home."
Cindy N.
"Jennifer at Fecteau Homes along with the Fecteau team were beyond helpful throughout the entire process of buying our new single wide. She made the custom design process a breeze by delivering everything we asked for. The Fecteau team answered all of our questions and gave us our first home for a very reasonable price. I would highly recommend anyone to visit and walk through all their models on the lot and discover/design their next home. Thanks Fecteau Homes"
Joe D.
"... I just want to tell you that we can't thank you enough! You have been awesome throughout this entire process! I'm so glad I came in and talked to you in February and didn't go to [elsewhere]! Everyone at Fecteau [Homes] has been so friendly, helpful, and understanding throughout this entire process...! Thank you so much!"
Richard C.
"Fecteau Family & Workers: You all have been so kind and helpful to our family and have helped us get some beautiful homes on the hill in Williamstown! You are all great to work with! "
Beth & Gerard L.
"Your service manager, Lee, is so sweet and I just have to say that the whole team at Fecteau [Homes] has been a pleasure to work with! You guys are the best."
Ashley C.
"...All of you have been so great and helpful and accommodating and all the other words there are. All people should be as good!! Thank you again..."
Judy G.