Is an Accessory Dwelling Unit (ADU) right for you?
April 26, 2023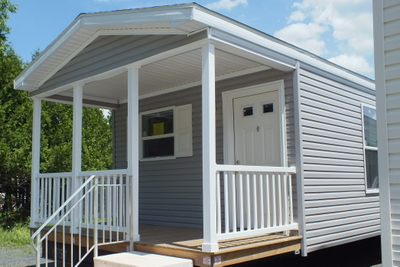 An Accessory Dwelling Unit (ADU) is a small secondary dwelling unit that is attached or detached from a primary residence. ADUs are often referred to as "in-law apartments" or "carriage houses". They can be used for a variety of purposes, such as providing a place for an elderly family member to live, generating rental income, or simply providing extra space for a growing family.
Adding an ADU to your home can have many benefits. Keep reading to learn more about the top 4 reasons to add an ADU to your property!
1. More Space for Guests and Family
Many homeowners find that an Accessory Dwelling Unit is a great solution for providing extra space for guests, extended family, or other visitors. The home can be designed according to the family's needs and the space can be tailored to their lifestyle. An ADU can be outfitted with everything you need in a home. This means that a family can make sure that the ADU is comfortable and meets their needs before any guests arrive. An ADU can even provide a place for elderly family members to age in place if necessary.
2. A Rental Unit to Help Offset Your Mortgage
Another great benefit of adding an Accessory Dwelling Unit to your home is that it can serve as a rental unit to help offset your mortgage payments. An ADU can be rented out to generate extra income and used as a long-term or sort-term rental unit. This can provide additional revenue to homeowners to offset the cost of their mortgage or to help with other expenses. The additional income can also be helpful when it comes to affording upgrades or repairs. Plus, a rental unit can provide a nice buffer of cash if you find yourself in a financial crunch. In addition, adding a rental to your home can help to diversify your investment portfolio and can provide you with more financial security in the long run.
3. A Place To Live If You Downsize
An Accessory Dwelling Unit can also be a great option for those who are looking to downsize but don't want to leave their current property. An ADU can provide a place to live in while still allowing you to stay in the same location. If you are looking to live simply, an ADU can provide you with the space and privacy that you need without having to move or find a new place to stay. ADUs are typically smaller than a regular home and can be configured to fit a variety of living spaces. They can be designed with all of the amenities that you need such as a kitchen, bathroom, living room, and more. This is a great way to stay in the same location and still have it be comfortable and accommodating for a variety of needs.
4. A Way To Build Equity In Your Property
Finally, adding an Accessory Dwelling Unit to your home can be a great way to build equity in your home. This is because an ADU can increase the overall value of your property. An ADU can offer a wide range of benefits to a property, from rental income to the potential to increase property value. Conclusion: An Accessory Dwelling Unit can be a great addition to a your property for a wide variety of reasons. Whether you are looking for extra space for guests or family members, a way to generate income, or simply a way to build equity in your home, an ADU can provide the solution. Plus, adding an ADU can be relatively easy and affordable, depending on the size and scope of the project.
Contact a sales consultant for ADU floorplans and to see if an ADU is your housing solution!