How to Determine Best Price Versus Best Value
October 25, 2018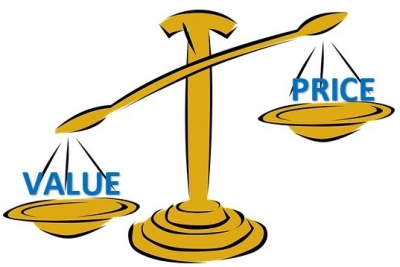 Like anything else, it's important to shop around when looking for a new home but there's a lot to take into consideration. We think it's imperative for our customers to know what to look for when shopping for a new home, so we've created a checklist to better help you in the decision-making process.
Click here for a printable version of things to look for when shopping
Ø Does the price include delivery to your location and necessary local/federal building code requirements?
We've seen many customers come through our office that think they've found a great price on a home through an online company, but what they often don't know is that price does not include delivery from the factory or the necessary code required items for the state or town they're planning to build in. Unfortunately for some customers, they're too far into the process when they realize there are additional costs for these items. Don't get hooked with the lowest price you find. We include delivery throughout Vermont and parts of New Hampshire, and because we are a local retailer we're familiar with the necessary state and federal code items that will be need to be added to your home and include those items up front, so there's no hidden costs.
Ø Are all necessary inspections included?
With the federal installation requirements, there's also an inspection required for new single-wide & double-wide homes. We have licensed HUD inspectors we work closely with to make sure the home is inspected per HUD regulations and we take care of all the necessary paperwork for you. From filing the bill of sale with the town to the transfer tax return with the state to the HUD-309 form with the federal government for single and double-wide homes, we do it all so you don't have to. For modular homes, we complete the state required RESCheck to make sure your new home meets all the state efficiency guidelines and supply you with the necessary documentation for the town to issue a certificate of occupancy. And because we offer assistance with the financing process, we even coordinate with the bank for the final bank/appraiser inspection upon completion if there's financing involved.
Ø Is the home dealer a licensed installer for where you plan to build your new home?
Federal regulations now require HUD licensed installers to set and install the homes according to strict installation regulations. We have multiple licensed installers as part of our team, so you don't need to worry AND there's not an additional cost as we include it in the price of our homes.
For our new single-wide and double-wide homes, we include block and levelling the home upon delivery, tie downs, finishing the interior and exterior of the home, steps for the front and rear door, and having the home professionally cleaned upon completion and prior to you moving in.
For our modular homes, our set up includes craning onto the foundation, finishing the interior and exterior of the home, raising and capping the roof, steps for the front and rear doors, installation of basement stairs, insulating box sill on the home, and the professional cleaning upon completion.
We also have our customers conduct a final walk through with our service manager upon completion of all of our homes to ensure you, as our customer, are completely satisfied with your new home.
Ø Does a warranty come with the home?
Probably one of the most important things to keep in mind as you're shopping is whether or not the home comes with a warranty or any kind of guarantee. Not only do our homes come with a factory warranty, we also include a one-year retailer warranty on top of the factory warranties. The last thing you want is to move into your brand-new home to find out your refrigerator doesn't work, just to be told it's your responsibility to fix.
Ø Does the home dealer offer financing assistance?
Part of our additional services we truly pride ourselves on is the fact we offer assistance with the financing process. Purchasing a new home can be a daunting task for anyone, especially when it comes to new construction and more often than not other retailers want you to have financing in place before giving you the time of day. Our staff understands the home-buying process is just that: a process. And whether you already have a bank in mind or no clue where to start for financing, we can be there every step of the way to make this as easy as possible for you, and again at no additional cost to you. This is just another one of our many services that we include with the purchase of your new home.
Ø Does your bank require a general contractor? If so is the home dealer willing to act as general contractor for your project?
More and more banks are requiring a general contractor for new construction projects, and less and less banks are allowing the customer to act as their own GC. If the retailer won't be the general contractor for your new home, who will? We often act as general contractor on majority of the new construction projects we do, even if we don't handle the excavation or site improvements. We can even review the quotes you get for the site work, concrete, etc to make sure everything you need will be included and can be rolled into your loan to minimize the chance of unexpected costs and you needing to pay out of pocket up front for any of these services.
Ø Can the home dealer handle your entire project?
There can be a lot of different pieces when it comes to new construction. If you have a piece of land, you'll need someone for the site work, someone for the concrete for the slab or foundation, and possibly someone to drill a well, install the septic system, and even run power to your house site. Or if you have a lot in a mobile home park, there will likely need to be a slab installed, meaning some excavation and concrete work. Most retailers don't want to get involved in this additional work, but we can handle it all! We can even offer referrals for other subcontractors in your area that we've worked with in the past, so you can be sure you're getting a competitive price on every part of your new construction project.
Ø Does the homes dealer assist with the necessary state or town permitting that may be required for your project?
Most of the time for new construction projects there are building permits required and even state waste/water permits required for your new home. Whether it's at the town or state level, we can assist you in completing in the necessary permit applications and guide you through the process to ensure your construction project has all the necessary permits in place prior to construction beginning. And because we have an experienced staff, we can often foresee future issues that may arise with permitting. We can take the necessary steps to help you get these potential issues resolved in a timely manner, so that your new construction project and completion of your new home won't be delayed.
Make sure you ask the right questions and find out what you are getting. Evaluate everything about the home and the builder and once all boxes are checked, make your decision not only on PRICE but also on VALUE.