Park models are finally here, and we couldn't be more excited to show you!
August 23, 2018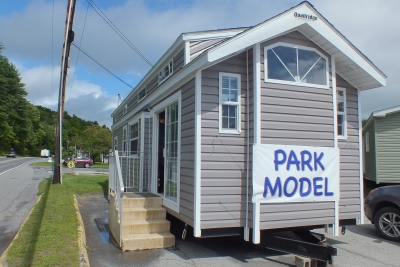 Looking for an affordable solution for a seasonal home? OR considering downsizing and looking for an accessory dwelling to place on family land? OR trying to find a home for that camp location you've been eyeing? Whatever you're looking for, we have the solution for you, and these BRAND NEW park models are just the icing on the cake for our inventory.
With multiple options and floor plans available, these park models are sure to offer you an affordable housing option without sacrificing aesthetic appeal or quality. Park models include furniture, appliances of your choosing, and all fixtures, meaning these homes are truly move in ready; all you have to do is tell us where to deliver it.
Questions about the buying process or loans for a park model? We've got you covered. Our knowledgeable team has spent hours researching the different financing programs available through multiple local banks and credit unions. With a quicker turnaround time than conventional home loans and little to no down payment financing options available, we work to get you approved with full funding available THE SAME DAY, meaning you can sit back and relax in your new park model faster!
Check out our inventory here: Park Models
Or stop by our office for other floor plan availability!