Need a Home Fast? We Have the Solution!
July 13, 2018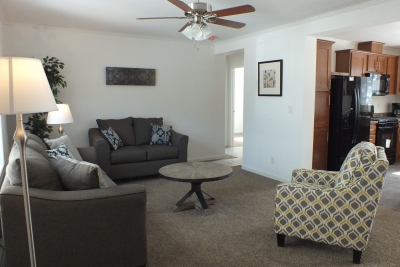 If there is one thing we've learned after decades in this business it's that no two customers are the same. Every customer that walks through our door is looking for something different. Some customers are looking for a 2,000 square foot home, some are looking for an 800 square foot home. Some want custom, some want simple and some want their home TODAY.

In an effort to be able to accommodate every customer we typically have several homes for sale directly off of our lot. These homes are for sale at a discounted rate and are often available for immediate delivery. If time frame is a primary concern in your home search then we have the solution for you!

The homes we currently have for sale off of the lot range from 800 square feet to 1387 square feet and from 2 bedrooms up to 4 bedrooms.

When you choose to buy directly off of the lot then the home you see here is exactly the home that you get delivered to you. If you're in a time crunch and need your home today then give us a call at 802-229-2721 to see what we can do for you.

Modular Homes
3 Bedrooms / 2 Bathrooms

Double-Wide Homes
4 Bedrooms / 2 Bathrooms

Single-Wide Homes
2 Bedrooms / 2 Bathrooms
3 Bedrooms / 2 Bathrooms
3 Bedrooms / 2 Bathrooms
3 Bedrooms / 2 Bathrooms
2 Bedrooms / 2 Bathrooms